Erika Wilde and Carly Phillips are wonderful authors alone and together they are phenomenal. Dirty Sexy Saint sucked me in from the beginning and kept me from getting anything accomplished until I finished the book. I loved Clay and Sam together. Sam is a rich girl who leaves her family when her dad is trying to force her into a marriage of convenience so he can keep his company in the family. She ends up at Clay's bar and when she drunkenly admits she has no where to go and no money to pay for a hotel, Clay takes her to his place to sleep it off. Well, one night turns into more and they start falling for each other. This book combines the writing styles of two authors seamlessly and is filled with both sexy scenes and humor. I give this book 5 stars and can't wait for the rest of the Dirty Sexy series.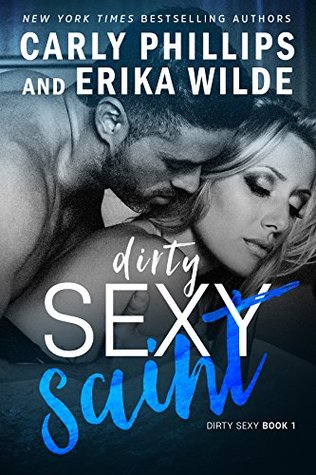 Amazon
Goodreads
New York Times bestselling authors Carly Phillips and Erika Wilde bring you a dirty, sexy, smoking hot SERIES featuring three bad boy brothers bonded by shocking secrets and their damaged past. Sinful, addicting, and unapologetically alpha, these men are every woman's erotic daydream ... And your ultimate dirty fantasy.
Are you ready to get Dirty Sexy with a Saint?
Clay Kincaid knows he's more a sinner than a saint. Especially when it comes to women. With a rough and damaged past that has left him jaded, he doesn't do committed relationships. But he does like sex—the hotter and harder, the better. He likes it fast and filthy, which is why he refuses to even touch someone as sweet and guileless as Samantha Jamieson. Until he discovers that she likes it just as down and dirty as he does. Let the sinning begin . . .
DIRTY SEXY INKED & DIRTY SEXY CUFFED coming in 2016!
All books in the DIRTY SEXY Series are full-length novels with no cliffhangers!