Say You're Mine by Diane Alberts is a book that hooked me in from the beginning and kept me captivated until the end. I haven't read the previous books in this series, but I have added them all to my TBR list. I'm a huge fan of friends to lovers stories and this one was just as well written as I'd hoped. Ms. Alberts wrote a story that tugged at my heart strings at some points and at others had me laughing out loud. This story has both humor and heart and I really can't wait for more from both this author and this series. I give this book 5 stars and definitely recommend reading it.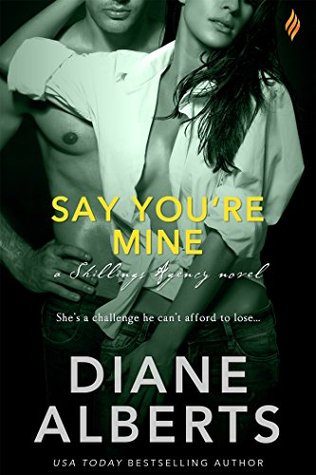 A sexy category romance from Entangled's Brazen imprint...
She's a challenge he can't afford to lose...
Navy SEAL Steven Thomas has only ever been able to count on three things: waking up in the morning, going to sleep sometime during the night, and Lauren Brixton. She's been his best friend since grade school, and what they have is the only relationship he's managed not to ruin.
Until one drunken night puts that all in jeopardy.
Lauren's watched Steven flit from one-night stand to one-night stand, seemingly not interested in something more. So when the long-ignored attraction between the two of them blows up in their faces, she does the only thing she can-she pretends she doesn't want him. But all's fair in love and war, and Steven's not about to lose the only person in his life who matters...