My Kind of Wonderful is the newest book by the talented Jill Shalvis, and she has given fans another fantastic book. This is the second book in her Cedar Ridge series and follows Bailey Moore and Hudson Kincaid. Bailey survived cancer and is working on living her life to the fullest. She meets Hud when she accidentally ends up on the Diamond ski slope instead of the beginner that she was aiming for. Their connection was instant and filled with humor. I love how this book was able to both make me laugh like a loon and connect with the characters to the point where I truly understood Bailey's desire to live life all out. I can't say enough good things about this story and must give it 5 stars. Highly recommend to all Shalvis fans, as well as anyone who likes romance.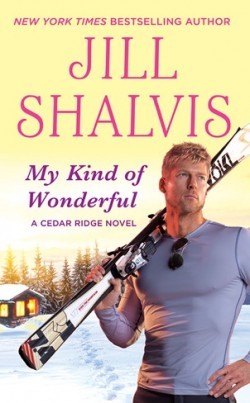 Amazon
Goodreads
UNEXPECTED AND UNDENIABLE...
Bailey Moore has an agenda: skiing in the Rockies, exploring castles in Europe, ballroom dancing in Argentina. Now that she has a second lease on life, she's determined not to miss a thing. What she doesn't realize is that item #1 comes with a six-foot-one ski god hot enough to melt a polar ice cap. She doesn't want to miss out on him either, but Hudson Kincaid isn't the type of guy to love and let go. And as gorgeous as Cedar Ridge is, she's not planning to stick around.
As head of ski patrol at his family's resort, Hud thinks he's seen it all. But never has he run into someone like Bailey. She might look delicate, but her attitude is all firecracker. And her infectious joy touches something deep within him that he's been missing far too long. Now he'll just have to convince Bailey to take a chance on her biggest adventure yet . . . something rare and all kinds of wonderful.