Julie Ann Walker's Hell or High Water is a fantastic start to a new series. I have been a fan of hers ever since I started reading her Black Knights Inc. series and with this book she doesn't disappoint. This book is action packed, steamy, and just as thrilling as her BKI series. I found myself laughing out loud at parts and grinning like a moron because she is such a talented writer. This book was read in one day because I was so engrossed in the story. My one complaint is that Leo and Olivia had such an intense past that I would love to see a prequel to this book to get more in depth to that past. Their past is slowly explained throughout the book, but I think the prequel would help. This was a wonderful story and I can't wait for more from the Deep Six group. This book gets 5 stars and is a definite reread at some point.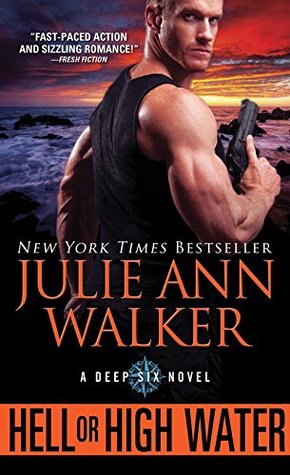 Amazon
Goodreads
In a world on the brink...

Six men. One sunken Spanish galleon. Millions in gold and silver coins lying on the ocean floor. And a past that refuses to let the guys of Deep Six Salvage forget the Navy SEAL motto: the only easy day was yesterday...

There's more than one kind of treasure...

The nation's security has always been CIA agent Olivia Mortier's top priority. But a mission-gone-wrong has begun to make her wonder if there's more to life than risking hers.

And more than one secret at the bottom of the sea...

Only two things could make Leo Anderson abandon his hunt for the legendary lost ship, La Santa Cristina, and return to the world of weapons and warfare he swore to leave behind: a capsule of enriched uranium, lost on the ocean floor, and a plea for assistance from the one woman he can't seem to forget...